Rwanda's Improved Services for Vulnerable Populations Project: Impact Evaluation: Summary of End Line Findings

tr-19-363.pdf
— PDF document, 996 kB (1,020,132 bytes)
Author(s): Fehringer, J., Lance, P., Ndirangu, K., Benson, A., Angeles, G., Parker, L., Foley, S., Gobin, S., Varela, V. C., Morris, L., Cannon, A., Iskarpatyoti, B.
Year: 2019
Fehringer, J., Lance, P., Ndirangu, K., Benson, A., Angeles, G., Parker, L., . . . Iskarpatyoti, B. (2019). Rwanda's Improved Services for Vulnerable Populations Project: Impact Evaluation: Summary of End Line Findings. Chapel Hill, NC, USA: MEASURE Evaluation, University of North Carolina.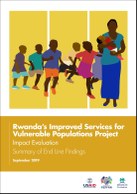 Abstract:
The Improved Services for Vulnerable Populations (ISVP) project, known locally as Twiyubake, aims to improve the health, nutrition, and well-being of the populations on which the project focuses—orphans and vulnerable children (OVC), people living with HIV/AIDS, and economically vulnerable families—by strengthening their capacity in those domains. The ISVP is led by Global Communities (GC), along with international nongovernmental organizations (NGOs) and local civil society organizations. GC and its partners work within the Rwandan Ministries of Health (MOH) and Gender and Family Promotion framework. ISVP is supported by the United States Agency for International Development (USAID) Rwanda Mission.
The USAID- and United States President's Emergency Plan for AIDS Relief-funded MEASURE Evaluation project—with support from USAID/Rwanda and in collaboration with Incisive Africa and the National University of Rwanda, College of Medicine and Health Sciences, School of Public Health—conducted an impact evaluation of the ISVP project. The evaluation sought to measure the impact of the interventions on the health, education, and economic well-being of vulnerable children and their families. This summary report shares end line impact, trend, and cost-effectiveness results using data from the 2017 and 2018 surveys, and costing data collected from ISVP. A full-length end line report on the evaluation is available, as well as a report from the initial data collection.