Capacity Building Resources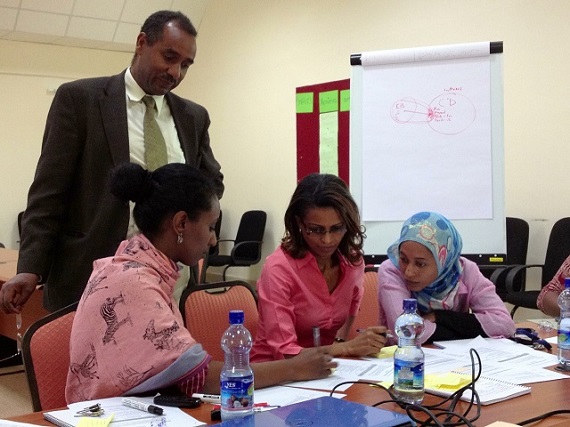 MEASURE Evaluation worked globally to strengthen the capacity of individuals and organizations to identify data needs and collect, analyze, and use appropriate data to meet those needs to achieve results.
MEASURE Evaluation offered curricula and training materials created collaboratively by numerous staff, many of them with input from expert colleagues at partner institutions, for use in our regional and country-level workshops. These materials cover topics such as data analysis, data demand and use, data quality, gender, general M&E concepts, geographic information systems (GIS), health management information systems (HMIS), HIV/AIDS, impact evaluation (IE), Priorities for Local AIDS Control Efforts (PLACE), malaria surveillance and evaluation, tuberculosis (TB), population, health and nutrition, and routine health information systems (RHIS). The materials are available for download at no cost. Please use and/or adapt these materials as needed for training or for reference.
If you use the materials, we ask that you acknowledge MEASURE Evaluation's contribution in any resulting presentations or publications.
Curricula
Evaluation of Health Programs: A Postgraduate Overview Course – Postgraduate Evaluation Curriculum
As part of an effort to strengthen postgraduate education on evaluation of health programs, the Global Evaluation and Monitoring Network for Health (GEMNet-Health) and MEASURE Evaluation embarked on developing competency-based curriculum materials for a master's degree level, overview course on evaluation. The modular curriculum materials are presented here, along with a summary of the curriculum development approach followed.
Qualitative Methods in Evaluation of Public Health Programs Curriculum
This course curriculum is designed to assist health professionals in using qualitative evaluation skills in sound and rigorous evaluation of their program. The sessions go beyond basic concepts to explore important considerations of qualitative methods in the context of rigorous evaluation.
RHIS Curriculum 
Using practical case studies, this core RHIS course teaches how to improve the performance of RHIS by producing reliable data to inform decisions at all levels of the health system.
Impact Evaluation Curriculum
This collection of workshop materials is meant to be used as a resource to review the main methods for evaluating program impact and to increase ability to design and conduct impact evaluations of health programs.
Malaria Workshop Materials (revised)
This module contains the course content, handouts, and other training materials from a complete training workshop on monitoring and evaluation of malaria programs.
Materials for Trainers 
M&E Fundamentals: A Trainers' Guide
This training manual helps trainers teach program managers, staff, and other decision makers the fundamental elements and techniques of monitoring and evaluation.
Data Analysis
Data Demand and Use
Data Quality
Gender
General M&E Concepts
Geographic Information Systems (Mapping and Analysis of Spatial Data)
Health Management Information Systems (HMIS)
HIV/AIDS
Infectious Disease
Population, Health, and Nutrition
Other Resources
Monitoring and Evaluation Capacity Assessment Toolkit
The Monitoring and Evaluation Capacity Assessment Toolkit (MECAT) is a set of tools that guide organizations through a process to assess their current M&E capacity, identify gaps, and plan ways to strengthen their M&E systems.
Global Evaluation and Monitoring Network for Health (GEMNet-Health)
See the GEMNet-Health webpage for reports, presentations, and other materials related to GEMNet-Health. 
Courses and Resources
MEASURE Evaluation provided online courses and resources free-of-charge to build the M&E capacity of researchers, program managers, trainers, policy makers, students, and other public health professionals.
Related Content
Quick Country Start-Up Package for Malaria Surveillance, Monitoring, and Evaluation Training
A Guide to Monitoring and Evaluation of Capacity-Building Interventions in the Health Sector in Developing Countries 
Assessing Capacity for Evaluation: A Pilot in Kenya
Assessing the Capacity of Monitoring and Evaluation and Health Information Systems: Guidance
Building Capacity for Resilient Health Systems - Lessons Learned from Sierra Leone, Guinea, and Liberia in the Time of Ebola
Capacity Building Interventions in Health Information Systems: Action for Stronger Health Systems
Identifying the Need for Evaluation Capacity Assessment Tools and Guidance